Learn the Techniques to Create Art that Has a Signature Look
Now, that might sound more difficult than you think. But, with the training included in this bundle, I'm going to make it easy for you!
Meet Your Instructor
Join 400,000+ Students Learning from Joel Grimes!
Joel Grimes
Canon Explorer of Light and award-winning photographer.
Every Technique Covered
Before you can truly develop your own style, you need to know which techniques will create art that you are truly proud of.
Start to Finish Projects
My no holds barred approach means you'll follow me from the first idea through the full execution of the final images!
More than 16 Hours of Training
From setting up a shoot and posing to lighting, retouching, and creating Photoshop magic, get all the training you need (and more)!
What's Exciting?
There are no secrets when I'm teaching photography!
Portraiture
Learn the fool-proof techniques you'll need to create gallery-worthy portraits of anyone.
Posing
Master the art of getting the most from your subjects to create a dramatic final image.
Lighting
Break through the confusion of lighting and discover simple and effective lighting tricks.
Camera Techniques
Unleash the full power of your camera by knowing the exact workflows for every kind of look.
Still Life
Discover the tricks of the trade for creating billboard quality still life images.
Retouching Techniques
Create amazing art from even average images with easy-to-learn pro retouching techniques.
Take a Closer Look
Throughout 20 unique, in-depth masterclasses, discover the techniques you need to create every type of image.
19 Full Projects
Through the course of 19 start to finish projects, you'll be a part of the journey from ideation to completion on some of my favorite portfolio images.
40 Behind the Scenes Modules
After years of teaching photography, I've seen the biggest changes in people following me step by step. You'll get real-world experience from the comfort of your home!
Hundreds of New Techniques
This collection was created to cover every technique I use to ensure you learn what will help you unlock your full creative potential and create your best art yet!
More Training - Less Searching
This might seem like too much. But you'll have access to everything you need, in one place!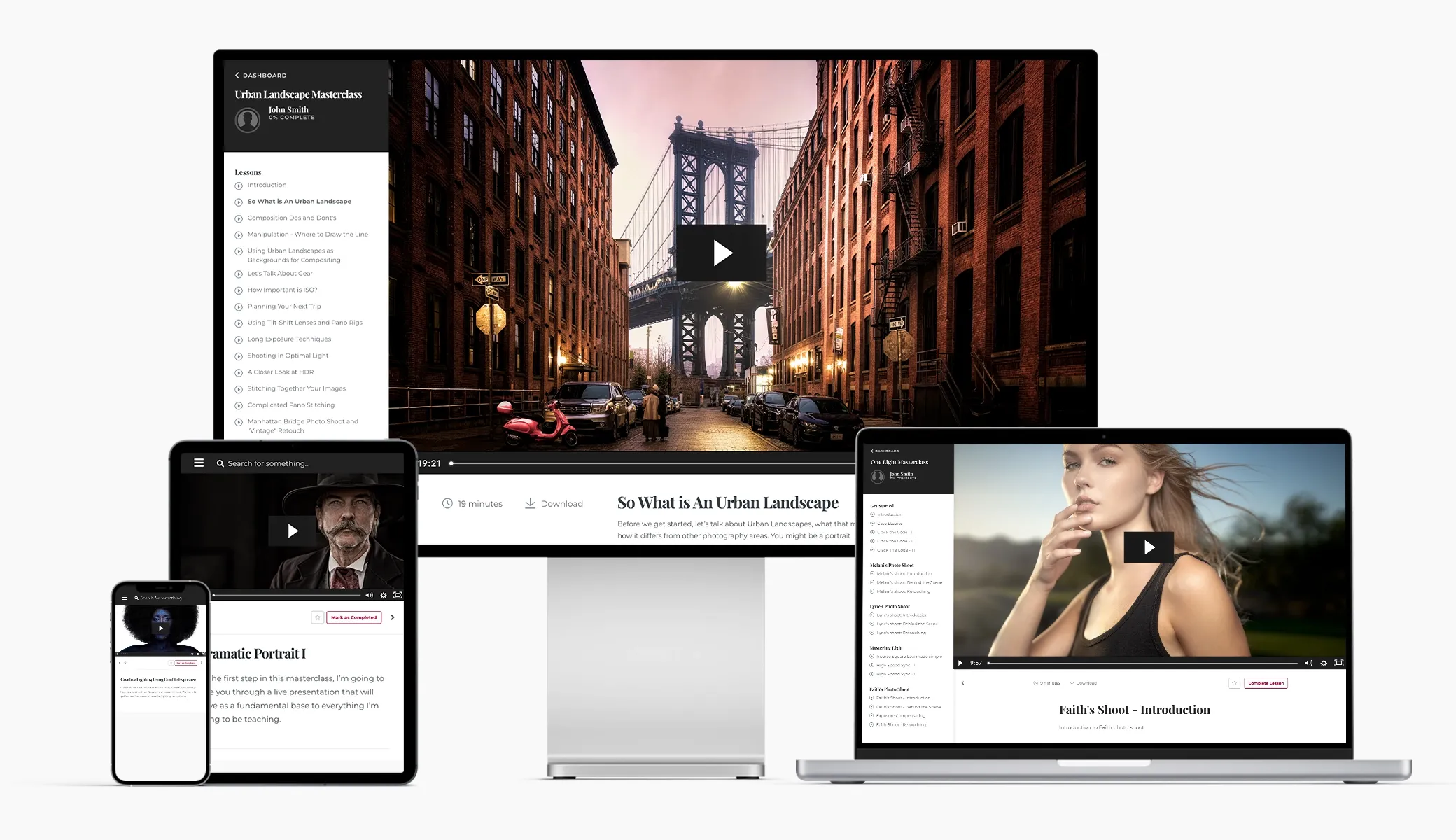 Easy Lifetime Access
Stream or download from any device with our one-stop hub for creativity. This is a one-time purchase that you can enjoy for years.
Full Curriculum
Study and learn at your own pace using our library. Your spot will always be saved to pick up where you left off.
Detailed List of Contents
Let's take a deep dive into this bundle.
Kerron Clement
3 Lessons | 36M
$

47
included
Learn how I photographed Gold Medalist Kerron Clement in my studio. I've known Kerron for a number of years and was very excited when he approached me for a photoshoot. We are also going to cover how I toned and edited the final images of Kerron. Watch as I go through my workflow step-by-step!
The Boxer
3 Lessons | 1H 29M
$

97
included
Want to learn how to achieve dramatic light on both your subject and background? And master retouching to achieve an amazing final image? Let's go start to finish on a one-day shoot as I uncover my secrets for creating dramatic edge light on a subject while still capturing a well-lit background. I'll take you from planning through to retouching.
Natural Light
1 Lessons | 52M
$

47
included
This start-to-finish course will teach you my entire workflow for working with natural light. There are a few tricks we can use to get the most from a scene and subject when using natural light. From picking the right gear and setting up the shot through my entire retouching process, I'll teach you how to create gorgeous magazine-quality images without a single strobe!
Beauty Headshot
1 Lesson | 47M
$

47
included
I'll teach you how I lit Hannah in the studio and cover the basics of understanding and choosing the right modifier. Next, I'll teach you how I work in ACR (Adobe Camera Raw) to manipulate skin tones to get a beautiful final look. Finally, I'll take you step-by-step, finishing off the image in Photoshop, using skin retouching techniques, Blending Modes, Adjustment Layers, and more to create the final image.
The Buffalo Soldier
3 Lessons | 43M
$

47
included
While coming up with some new ideas for what I call a "character" portrait, I started thinking about the buffalo soldiers of the United States Army. I met Jim, who creates history reenactments of past wars. Jim met with me and my team at Watson Lake in Prescott, AZ, for our shoot with a full buffalo soldier uniform and rifle. In this course, you will get to see how I shot the images, as well as my post-production on one of the images, to create a time period piece feel of old plate film.
Nefertiti
3 Lessons | 42M
$

47
included
In this course, I'll teach you the process for setting up an extremely styled shoot of the ancient royal wife of Egypt; Nefertiti! After 6 hours of sitting in the makeup chair, the living interpretation of the ancient Nefertiti bust was ready to stand in front of the lens for her moment. Follow me from beginning to end as we create this exciting image!
Mad Max
3 Lessons | 1H 16M
$

47
included
I had an idea to shoot one of my signature rough and grungy portraits on location with my good friend and model, Vincent. I was inspired by the look of the "Mad Max" films, so I took Vincent out into the Arizona desert to dress up as an apocalyptic survivor. I did multiple lighting techniques and tried a couple of lenses to find the perfect image. I had a lot of fun with this shoot! You'll learn how to adapt quickly to what's happening in this action-packed shoot.
Simulating Sunlight
1 Lesson | 41M
$

47
included
Learn the basics of High-Speed Flash Duration to freeze the action and how to manipulate skin tones to achieve a stunning look. You'll follow me from start to finish photographing and post-processing track and field Olympic Gold Medalist Kerron Clement. I'll teach you how I lit Kerron in the studio and cover the basics on High-Speed Flash. You'll also learn the full retouching process to create the final image.
Jessica In Iceland
2 Lessons | 41M
$

47
included
Discover how to capture a beautiful landscape and create a composite with it! I'll walk you through the complete retouching process of Jessica with the Treasure Chest, as well as the compositing process to place her on a beach in Iceland. The skills you'll learn will unlock a world of creativity, allowing you to composite your subjects into new and exciting places!
Gold King Mine
3 Lessons | 1H 7M
$

47
included
In this video tutorial, we'll go start to finish on this photo of Steve, the old miner, at the Gold King Mine in Jerome, Arizona. For this image, I used a three-axis pan head to create an ultra-megapixel file, stitching multiple rows of images and shooting HDR. I'll teach you how I used one light cross light in the field and mixed both strobe and ambient to create this classic portrait.
Dodge Truck
3 Lessons | 39M
$

47
included
In this video tutorial, we'll go start to finish on a photograph of the old miner Steve at the Gold King Mine in Jerome, Arizona. You'll follow me behind the scenes, learning how, with access to only one light on location, you can capture incredible dramatic and well-lit photos almost anywhere! On this project, I used a 24mm tilt-shift lens to capture a really cinematic look. I'll walk you through every step so you can achieve the same results!
Beauty Portrait
3 Lessons | 37M
$

47
included
In this video tutorial, I'll teach you how to plan, set up, shoot, and retouch a classic beauty portrait. Lighting is super important for this style of image. I want to teach you how to create gorgeous flattering light with just one piece of gear! To take things up a notch, I'll teach you my process for capturing three frames and stitching them together in Photoshop to get an ultra-detailed final image.
Rembrandt Cross Light
1 Lesson | 38M
$

47
included
Learn how to use the Classic Cross or sometimes referred to as the Rembrandt Cross light. This is one of the most used techniques but rarely taught well. I'll give you my steps for achieving perfect cross light that will flatter your subjects every time. Then we'll jump into the computer for the full retouch, to create a magazine-quality final piece!
Wrapped in Fabric
1 Lesson | 50M
$

47
included
Learn how I photographed and post-processed the beautiful Hannah Brzezinski wrapped in fabric. You'll learn techniques for lighting, posing, and retouching your portraits, as well as some nifty camera tricks!
Building Drama
1 Lesson | 50M
$

47
included
Take your creative skills to the next level with very minimal equipment to build drama in your portraits. For this portrait, I captured two images, one with the strobes in the frame and one of a background plate. I'll teach you how to then use Photoshop to blend the two images together to create this final image. For the lighting, I'll teach you how I only used only two small Speedlites to create this dramatic look.
Subaru Platography
3 Lessons | 1H 9M
$

47
included
I am going to show you how I shot this Subaru Crosstrek using my Platography technique and utilizing a polarizing filter. If you are unfamiliar with Platography, it is simply shooting multiple frames and layering them in post-production to create your final image. I combined my multiple plates with multiple HDR shots to create this final image. I utilize this technique a lot with my Still Life images, and I find myself using it more and more in portraits - so I wanted to share an in-depth tutorial on this technique.
Strobing Nature
3 Lessons | 1H 9M
$

47
included
Come behind the scenes as I go into the field using a battery-powered strobe to overpower the sun and illuminate a cactus while underexposing the background. This technique is not reserved for just strobing cacti but can be used in separating any foreground elements in nature. I'll also teach you a step-by-step workflow for post-processing from the 32-bit HDR to the Black and White conversion then to the final finished image in Photoshop.
Strobing A Harley
3 Lessons | 57M
$

47
included
Create an ad campaign quality image with just one light and a remote trigger. During the summer of 2017, I began my travel across the country for 300 days​ to photograph Harley-Davidson motorcycles and their riders. This class covers some pretty fun Platography techniques you can use to create super detailed Still Life images. I think you are going to love this!
Texture Background
1 Lesson | 52M
$

47
included
This is such an important technique… Being able to add texture to an otherwise boring background is something you are going to end up doing to more images than you might think. The original image of the flowers was captured on a 50% gray paper background, and by using blending modes in photoshop, I teach you how to easily create a textured background. Learn how to take multiple textures and combine them into your own custom final masterpiece.
Bonus Content
For a limited time only.
Creating The Opportunity
BONUS #1
This unique class will teach you the secret ingredients you need to bring together your artistic goals and your craft.
I'll teach you what I've learned over the years for creating a body of work I love. I've been able to create a workflow that will help you avoid the mistakes I made and reach your goals faster!
You've got the camera, you understand the technical, and you're developing as an artist. Let me help you take the next steps!
Joel Grimes Facebook Academy
BONUS #2
Included
I had to struggle on my own for 35 years, but you won't have to because you will have a support network of people taking the same training.
This is going to make it faster and easier for you to get the answers you need when you need them. You might be thinking you can't use this because you are a solo artist but no one makes it alone. A rising tide lifts all boats.
Monthly Q&A with Joel
BONUS #3
Included
This is going to give you real-life feedback that will dramatically improve your skills.
You might be thinking you can't use this because you are just starting out or aren't trying to become a pro photographer. That's absolutely not true because my support will help you achieve any photography goal you have.
Canon Explorer of Light, Joel Grimes is a multi-award-winning fine art and advertising photographer. Joel has taught hundreds of thousands of photographers both online and on the most prestigious stages in the industry. Joel's teaching style is a show-all behind the scenes approach. His passion for photography and teaching is both fun and inspiring!
Frequently Asked Questions
Answers to common questions and issues.
How soon will I get access to the Bundle?
What if I run into technical difficulties?
How do I access the content?
Why have I not received an order confirmation?
It's a lot… How long do I have to access the content?
I have a different question…
The Create Your Style Complete Pack is here!