You CAN master your craft, and you CAN create amazing art!
You are an artist. The Joel Grimes Complete Academy gives you a road map for truly improving as a photographer.
Meet Your Instructor
Join 400,000+ Students Learning from Joel Grimes!
Joel Grimes
Canon Explorer of Light and award-winning photographer.
21+ Hours of Training
Whether you are just starting photography or you've been shooting for years, discover the three areas of photography that have been holding you back.
Behind the Scenes Training
The only way to teach is to show you real-world examples of my process. Join me both in the field and in the studio and learn every technique you'll need!
Save Over 90%
For a limited time, enjoy a huge saving on the Joel Grimes Complete Academy!
What's Exciting?
There are no secrets when I'm teaching photography!
It Starts with You
You are an Artist. I will teach you what that really means. It doesn't matter if you only take photographs occasionally, having the mindset of an artist is the first step in improving your photography.
Your Photography
I'll teach you to think of your photography as a craft, which means making things that require a skill. This is a craft that's easy to master, especially once I share the techniques I've developed and used over my 35+ year career.
Your Process
You'll learn how to create a workflow that not only guarantees excellent results but is enjoyable, stress-free, and easy. Creating art is as much about the process as it is about the final product.
Retouching
Yes, this is a scary area of photography, especially for beginners. But, you only need to learn a small library of techniques to start improving every image. You are an artist, with a set of tools. Great retouching is one of those tools.
Your Future as a Photographer
With this training, you'll be transformed from someone who owns a camera, to an artist who has mastered their tools. This will give you the ability to create masterpieces with your camera that your friends and family adore!
Take a Closer Look
Throughout three unique, in-depth masterclasses, discover the techniques you need to create an income with your camera.
3 Photography Masterclasses
Join me behind the scenes as I share my process, developed over 35+ years as a professional advertising photographer. Broken into three masterclasses, this is the curriculum I advise for any photographer just starting out.
21 Hours of Training
This sounds like a lot. But even if you devote ten minutes a day, or a week, to learning new techniques which you go out and apply, you'll start seeing dramatic results in your photography.
3 Steps
There are three steps you need to take. I've broken these down into easy-to-learn lessons. By following these steps you'll start seeing dramatic improvements in your art in days… Not years.
More Training - Less Searching
This might seem like too much. But you'll have access to everything you need, in one place!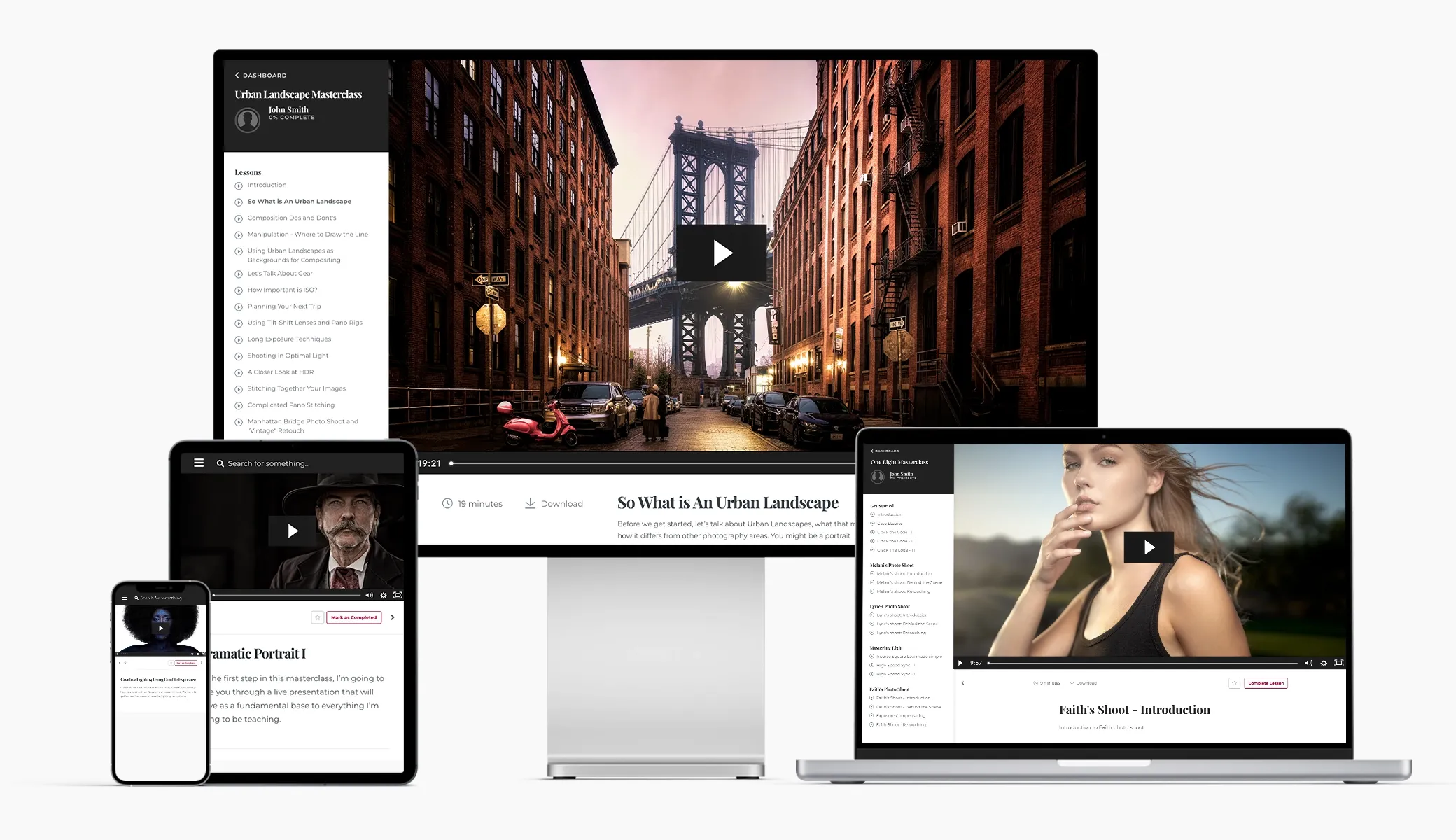 Easy Lifetime Access
Stream or download from any device with our one-stop hub for creativity. This is a one-time purchase that you can enjoy for years.
Full Curriculum
Study and learn at your own pace using our library. Your spot will always be saved to pick up where you left off.
Detailed List of Contents
Let's take a deep dive into this bundle.
The Artist
12 LESSONS | 3H 40H
$

197
included
The Artist, is an in-depth masterclass that will change the way you perceive and define photography. I hope to set forth my case that Art is not defined by the final product or how well that product is received, but by the act one pours into the process of creating. Be inspired to take charge of your goals and aspirations and live your dream as a photographer!
The Craft
36 LESSONS | 9H 50M
$

397
included
Become an expert at the craft of photography. From understanding how optics work to working in High-Speed Sync while strobing in full sunlight. To be an Artist, you have to master your craft. I love learning techniques that help me get to my end result. Here at the Joel Grimes Academy, I want you to go beyond the basics and become an expert at the craft of photography.
The Retouch
26 LESSONS | 8h 1m
$

197
included
There are a few reasons why I do all my own retouching, including 99.9% of all my commercial work. First, when building a portfolio, I can finish a shoot and immediately start processing my files and creating a finished image. No waiting and paying out the nose for a retoucher. Second, I am building a brand that is recognizable in the marketplace. My brand is everything, and having a consistent look to all my images is very important.
Bonus content
Go further with your creations.
Joel Grimes Facebook Academy
BONUS #1
Included
I had to struggle on my own for 35 years, but you won't have to because you will have a support network of people taking the same training.
This is going to make it faster and easier for you to get the answers you need when you need them. You might be thinking you can't use this because you are a solo artist but no one makes it alone. A rising tide lifts all boats.
Monthly Q&A with Joel
BONUS #2
Included
This is going to give you real-life feedback that will dramatically improve your skills.
You might be thinking you can't use this because you are just starting out or aren't trying to become a pro photographer. That's absolutely not true because my support will help you achieve any photography goal you have.
Canon Explorer of Light, Joel Grimes is a multi-award-winning fine art and advertising photographer. Joel has taught hundreds of thousands of photographers both online and on the most prestigious stages in the industry. Joel's teaching style is a show-all behind the scenes approach. His passion for photography and teaching is both fun and inspiring!
Frequently Asked Questions
Answers to common questions and issues.
How soon will I get access to the Bundle?
What if I run into technical difficulties?
How do I access the content?
Why have I not received an order confirmation?
It's a lot… How long do I have to access the content?
I have a different question…
The Joel Grimes Complete Academy is here!